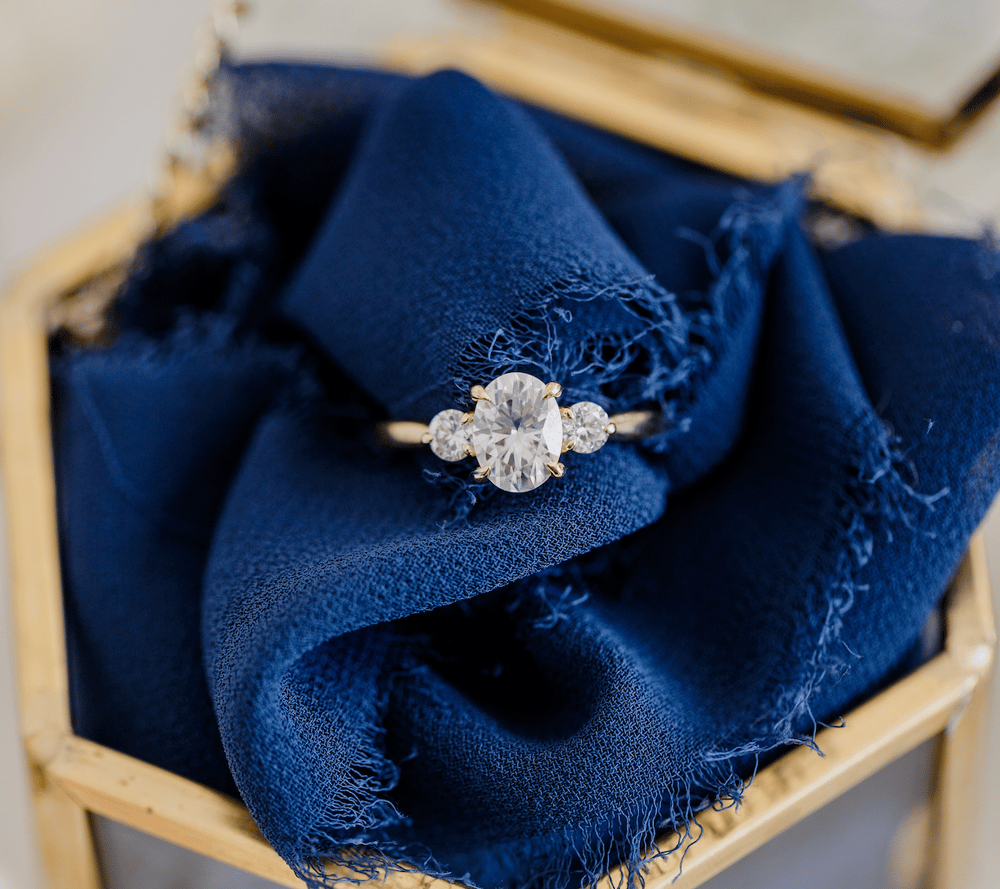 Custom Engagement Rings for Every Budget
No matter where you are in the process, we're here to take the stress out of finding the perfect engagement ring to fit your style, story, and budget. Gather some inspiration by looking through rings we've done for past clients and then let us know what you like by submitting a free quote form to the design team.
Round Cut Diamonds
The most popular diamond cut, the round diamond's refined shape allows for maximum reflection of light, contributing to its incredible brilliance. This cut is timeless and gorgeous in a wide variety of settings.


Shining with brilliance and fire, an oval cut diamond is elegant and classic. The oval is considered a "fancy" cut and the elongated design makes it appear larger than other shapes of the same carat weight.

Gemstones & Colored Diamonds
If a traditional diamond isn't your thing, colored diamonds and gemstones make gorgeous and unique engagement rings. We can source the majority of all cut gemstones and colored diamonds to add an elegant pop of color to your ring.


With a rounded side that narrows to a distinct point, the pear shaped diamond is an elegant, timeless choice. If purchasing for a ring, the pointed end will point toward the heart of the wearer. Symmetry is critical to the appearance of a pear shaped diamond so it sparkles evenly.

This fancy cut shape is second in diamond popularity after the round brilliant cut. It's created from the inverted pyramid of the rough diamond stone. Traditionally square, princess cuts achieve greater brilliance and fire than other similarly shaped diamonds.

The emerald cut diamond flaunts an elongated, rectangular shape and chiseled step cuts, with straight linear facets. A popular choice for those wanting a larger stone without a high price point, this cut usually appears bigger than other shaped diamonds in the same carat weight.

The cushion cut diamond gets its name from the combination of a square or rectangular shape with rounded edges, making it look like a pillow or cushion. Due to its precise bending and dispersion of light, the cushion cut beams with fire.

Radiant Cut Diamonds
Radiant cuts gained their popularity in recent years due to their dazzling brilliance which is only exceeded by the round brilliant. The radiant cut is an enchanting choice due to its numerous facets found in the pavilion and crown. These features provide a high level of both brilliance and fire.
The narrow body shape of the marquise resembles the shape of an elongated eye. Due to its long shape, symmetry is important when selecting a marquise Its stunning large crown is complementary to wearers as it makes the finger appear longer and more slender.

Custom Engagement Rings
We can build any type of ring through our custom design process. Our team would love to work with you to create a custom engagement ring! Scroll through to see renderings of a few of the yellow, white, rose gold, and platinum engagement rings we've tailored to each client's wishes.
Please note, the technical renderings you see on this page are merely digital images of the ring before setting and polishing. Don't be deterred by the oversized prongs- during the crafting process, the prongs are polished down to set flush with the diamonds.
Let's Get Started
When you are ready to pop the question, or if you need beautiful bands to say "I do," then Faithful Platform is here for you. Built on the idea that everyone deserves to find the perfect ring, we create beautiful pieces at a fraction of the price. You can contact us today to get a free quote. We proudly serve the entire U.S. through our online platform.